Sacred Oz Productions do Cape York on TrakRyder Suspension
Pedders Suspension has proudly sponsored Michael Butler and Samantha Martin from Sacred Oz Productions during their expedition to the tip of Cape York this year filming an exciting 5-part episode for the SBS/NITV television networks.
Adam Gillick – Pedders Suspension Group Marketing Manager wanted to push Pedders range of 4WD and SUV aftermarket suspension from its ever popular TrakRyder range. With the company offering many types of suspension lift kits for selected vehicles the group decided to support the Sacrod OZ Productions crew vehicle with the fitment of a custom Pedders TrakRyder suspension kit.
Adam Gillick said:
"We stand behind our TrakRyder range of suspension components and we saw huge potential in having Pedders product fitted to the Sacred Oz Production vehicle and the opportunity to test Pedders 4WD products in some of the most remote country territories in Australia!"
Sacred Oz Productions has produced several documentaries for National Geographic Channel and the Discovery channel. Their latest documentaries have included, 'The Bush Tukka Woman' and 'The Message Stick' for the ABCTV and SBS/NITV networks.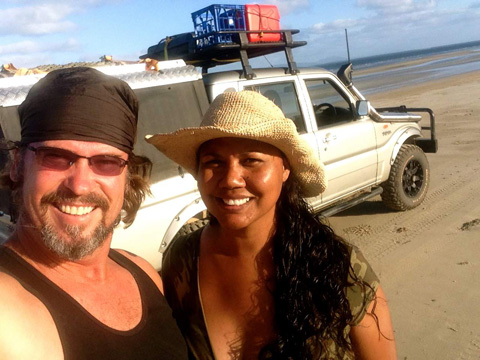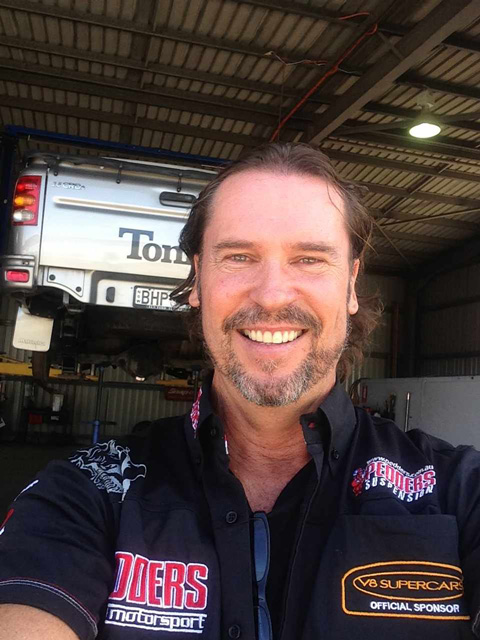 Michael Butler's new production vehicle is a Mahindra 4 x 4 and has been fitted with Pedders TrakRyder Suspension. As fitted by the team at Pedders Cairns, the vehicle received a new set of heavy-duty TrakRyder leaf springs, heavy-duty TrakRyder shock absorbers and Pedders AirAssist airbags. The products specified for the vehicle needed to be extremely tough and capable for the trip to the tip of Cape York!
The vehicle is a 4-door crew cab and was modified with the best Pedders can supply for the film crews vehicle. It has to be set up with extremely strong Pedders suspension, that's why they have chosen TrakRyder heavy-duty suspension for the expedition and Peter Bray, the General Manager from the Pedders shop in 176 Brown Street Cairns went to work fitting all the required suspension.
Peter Bray said it was the first time he had fitted Pedders suspension to the Mahindra and after 30 years in the business with Pedders, it turned into an R & D exercise for the Pedders company as it is a totally new vehicle to work on, but the Pedders team where up for the challenge.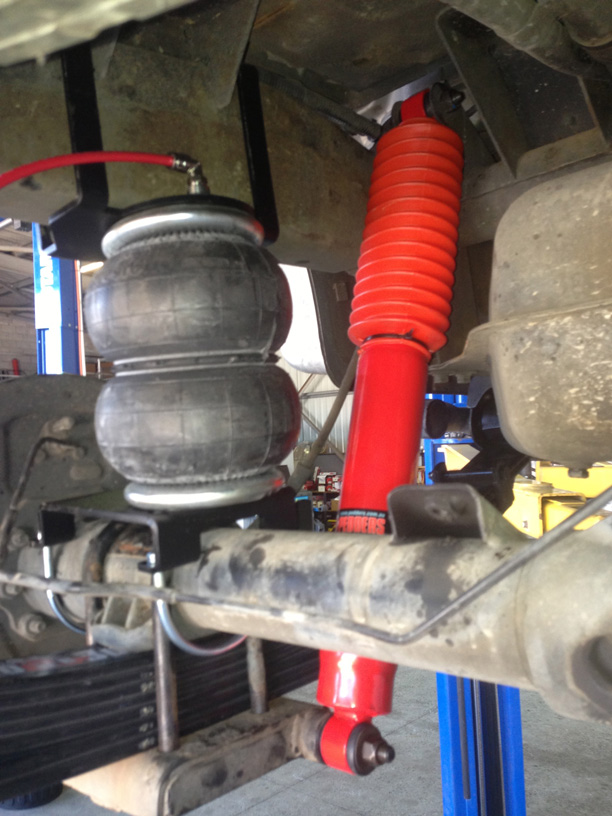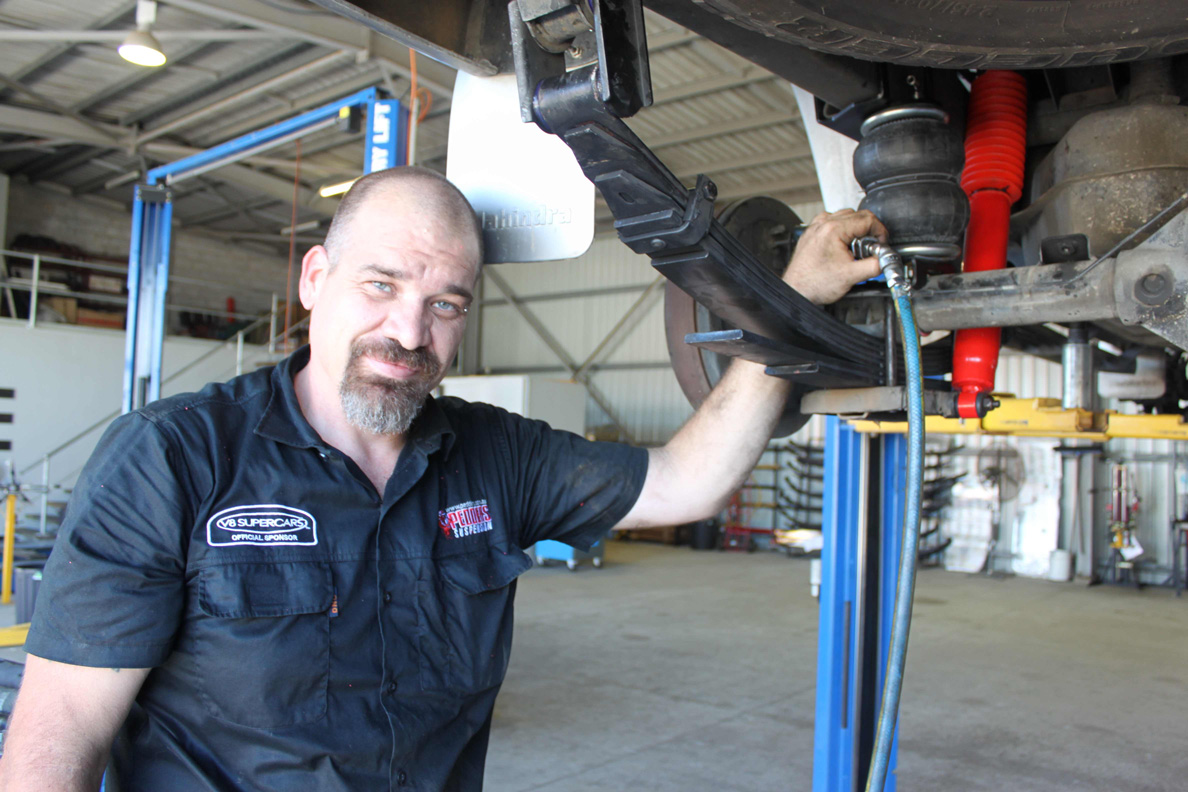 During the trip through Cape York, Michael and Samantha travelled through swollen rivers, corrugated roads and unexpended bull dust holes. The 4 x 4 was loaded up with film and editing equipment, camping and survival gear that allowed them to produce a new 5 part episode for SBS/NITV (National Indigenous TV in remote locations.
While filming the documentary, 'Around The Campfire' Michael and Samantha where invited onto traditional land that not many people ever get the access or privileged to see, The sacred land that they traveled on is unique for the Aboriginal people of the Cape York area and is a very important link to there past, present and future.
Sacred Oz Productions filmed 5 amazing stories of 5 people in the Cape York Region doing amazing things in their community, from keepers of the important Laura Rock Art to Roy Gibson, a Kuku Yalanji elder who had a dream to build a 20 million dollar Gateway Centre at Mossman Gorge.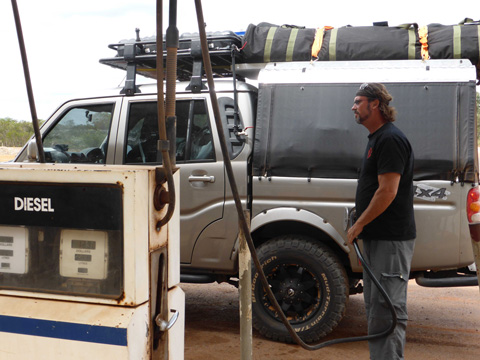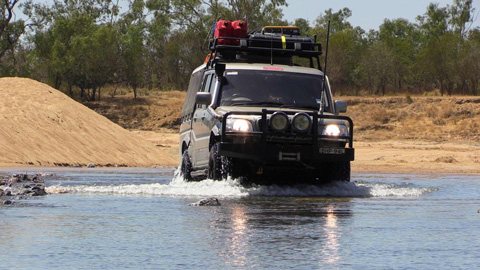 Roy Gibson said: "I want people to be proud of them selves and get up out of their bed and say I'm going to work, because I've got something to go to, because it's ours to be proud of."
Travelling to a lot of the remote communities was extremely difficult during the production with some of the corrugated roads so badly destroyed you had to make a new track in the bush as they had been ripped apart from thousands of other four wheel drive enthusiasts during May to September, commonly know as the dry season in these parts.
The graders and road works are an important lifeline connecting the locals and tourist from Cairns to the Tip of Cape York Peninsula, but when the roads are extremely bad, it's important for the 4WD enthusiast to get the best suspension available when the roads conditions are extreme.
Samantha Martin had the opportunity to Direct her first TV series and found it incredibly rewarding, the communities had already seen her on TV and where extremely excited to be apart of Sacred Oz Productions new films.
Sacred Oz Productions wouldn't have been able to travel to these incredible locations as smooth and reliable as they did with out the awesome Pedders TrakRyder suspension and that's 'No Bull'. It just goes to show you that you don't need to spend a huge amount of money to be able to tackle the roughest terrain on earth – Australia.
If you would like to see the documentaries Sacred Oz Productions has produced simple go to SBS/National Indigenous TV guide to see when the next installment there episodes of 'Around the Campfire' will be broadcasted or simply contact Michael and Samantha on
www.sacredoz.com