GVM Upgrade Solutions for Nissan Navara NP300 D23 15-ON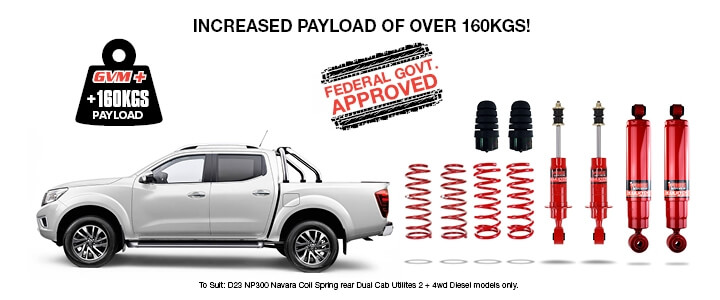 Does your Nissan Navara Ute carry loads for a living?
Are you serious about what you pack into the back of your Navara?
Pedders has the answer for you with a certified GVM+ upgrade kit. When your Navara is fully loaded for the journey ahead or if you're carrying the tools of your work trade, chances are that your Navara may be overloaded beyond its GVM and you may not even know it.
Support network of over 120 outlets Australia wide.
All components installed as part of a Pedders GVM upgrade package are backed by a Pedders 2 Year/40,000kms Nationwide Warranty.
When fitted with a Pedders GVM+ kit the Nissan Navara 2015-On has a certified GVM rating of 3070Kgs.
Ideal choice for towing caravans, horse floats, camper and general trailers who need that extra load carrying capacity.
Great for the serious off road driver fitted with bull bars, winches, recovery equipment and underbody protection looking for compliance to the federal GVM laws.
When the GVM Upgrade kit has been installed to a new vehicle by the trained Pedders technicians at a Pedders store, a compliance plate will be fitted. The new vehicle can now be registered with new increased G.V.M. This procedure will allow the vehicle to be legally used in all states of Australia. For vehicles that have already been road registered, the vehicle is to be inspected by an authorised Automotive Engineer in that state and be issued with a compliance certificate.
So, if you are planning ahead with an impending new vehicle purchase, or have realised that your current vehicle isn't quite handling the load, we have the solution.
Pedders also has GVM upgrade kits for Ford Ranger, Nissan Navara D40, Nissan Navara GU Patrol, Toyota Landcruiser 76 Series 99-On, Toyota Landcruiser 200 series 09/2007, Toyota Hilux GUN123R/GUN122R/GGN120R/TGN121R 2WD, Toyota Hilux GGN25R/KUN26R 4WD, Toyota Hilux Series GGN125R/GUN125R/GUN126R 4WD, Toyota HiAce LWB, Toyota HiAce SLWB, Mitsubishi Triton, Holden Colorado, Holden Colorado RG2, Isuzu D-Max, VW Amarok and Mazda BT50 models. Find out more about our complete range today by clicking on the relevant link, or visit your local Pedders outlet.
Click pdf below to download the Pedders GVM Solutions Kit Flyer:
Download Now