What Is Weighing You Down?
All weight impacts the safety and performance of a vehicle and that weight will come from one, many or all of the following;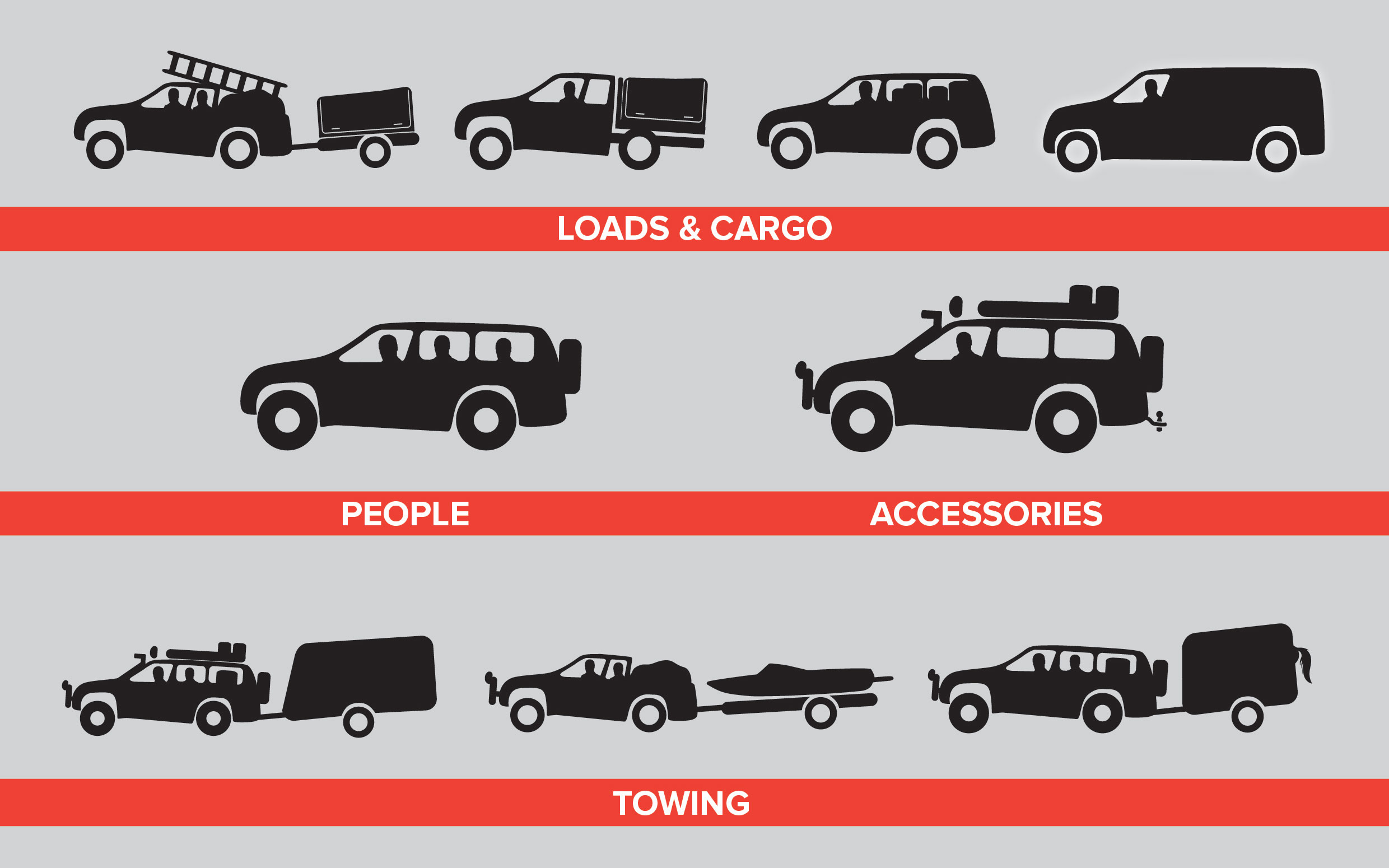 Note: All vehicles have a maximum "Payload" which is the original manufacturers specification for the maximum allowable load for that vehicle.
What's Your Scenario
We are expecting more and more of the vehicles that we own and drive. For example the work ute loaded with tools and equipment during the day will also be mum or dad's taxi on the weekend and will also tow the caravan, boat or trailer to the favourite holiday destination.
At Pedders we call those your driving "scenarios".
One of the key features of Pedders Tow and Load Assessment and the unique Weight Matrix Program is that we can provide your vehicle weight relevant to the likely driving scenarios that you will face.
Scenario 1, by default, is the car as it is weighed at one of Pedders outlets but a further 3 custom scenarios are available for the customer to get an understanding of their weight issues in the real world, tailored to their individual driving habits.
From this understanding of your driving scenarios and your vehicle weight, your Pedders expert can tailor a solution to ensure greater levels of safety and performance for your vehicle - and ultimately a more enjoyable driving experience.
Learn More About Pedders Tow & Load Assessment Here.
Download PDF
1. Brake, Steering and Suspension Check
The priority within the Pedders Tow and Load Assessment is to firstly assess the general health of the vehicle's brake, steering and suspension systems which are the most safety-critical systems especially under the stress of additional weight from loads, towing and accessories. A Pedders Brake, Steering and Suspension Check (valued normally at $28) will be undertaken as a critical part of the Pedders Tow and Load Assessment and will include the following.

Under Car Inspection
Our trained specialist technicians will systematically inspect your vehicle's entire steering and suspension system and other related undercar components from front to rear.

Brake Pad & Rotor Inspection
Check and report on the wear and operating condition of these components, removing wheels as required.

Shock Absorber Test
Most cars will be subjected to a simulated condition, which enables evaluation of your shock absorbers and suspension. For other vehicles we have adequate alternative evaluation methods. As shock absorbers and suspension deteriorate over thousands of kilometres, it is often the case that a vehicle's safety is gradually compromised via increased braking distances, unstable cornering and various stability concerns.

No Obligation Analysis and Written Report
Our comprehensive written report shows the current status of all-vital suspension and steering systems. Pedders staff are trained to know how to accurately evaluate the results of the report. So should your vehicle require work to be carried out to ensure its safety and dependability, we will outline for you within a scale of urgency the options available, using only Pedders approved components. This is a no obligation report, so you can decide what suits you best.
2. Weight Matrix
The "Weight Matrix" component of the Pedders Tow and Load Assessment refers to knowing your weight now and looking at your weight in the future based on your towing and load carrying scenarios.

Front & Rear Weight
Each participating Pedders outlet has a test lane or scales to weigh both the front and rear of your vehicle. The results of this vehicle weight form the basis of the first "as-weighed" scenario

Tow Ball Weight
Where relevant, participating outlets can assess the ball weight of caravans or trailers as this is an integral part of some weight scenarios. Please discuss the practicality and logistics of this with your participating Pedders outlet.

Initial Accessories & Load Checklist
As part of the initial weighing of the vehicle your current loads and accessories will be listed as the basis of the "as weighed" scenario 1.

Weight Matrix(TM) Software Report
The Pedders Weight Matrix Software and Report is a unique, world-first program designed to assist you in better understanding your weight issues. Armed with your vehicle's current weight and expected weights from future scenarios the Weight Matrix software program and report will provide key pieces of information for each different scenario.
Tow and Load Assessment Report, Advice and Solutions
Following completion of the Pedders Brake, Steering and Suspension Check including weighing the vehicle front and rear plus the loading of your individual scenarios into the Weight Matrix Software Program, your Pedders Expert will discuss the assessment and provide advice and recommend solutions. The priority items are any issues found within the Pedders Brake, Steering and Suspension check as these issues are magnified with the addition of weight. To assist with understanding the Pedders Tow and Load Assessment and in particular the Weight Matrix results a multi-page report can be printed or emailed and may be used by the Pedders expert at point of sale to discuss the findings and recommendations.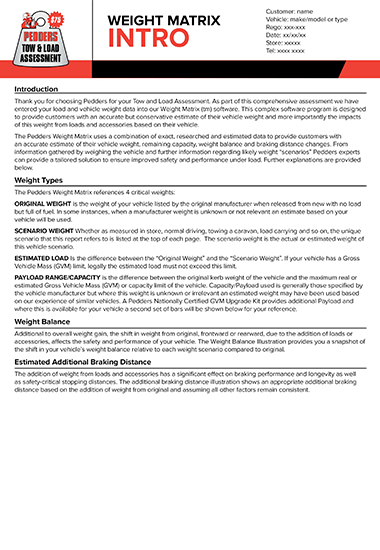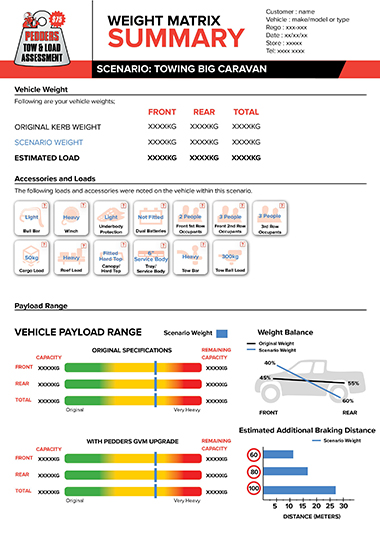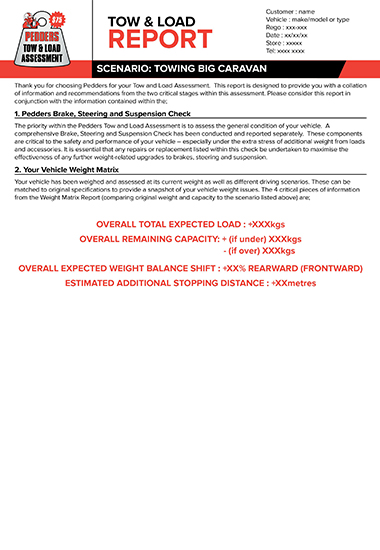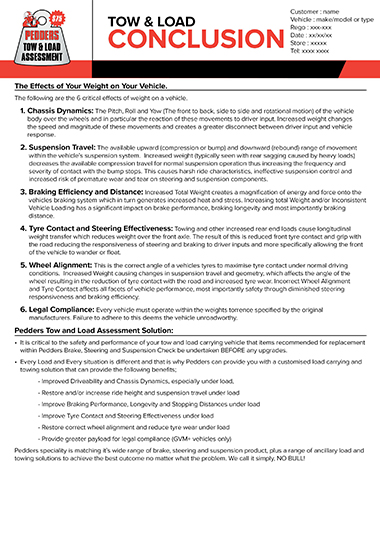 Note - The Pedders Weight Matrix ™ may not produce exact information but uses a combination of real world, researched and approximated data to provide an accurate estimate snapshot of your vehicle weight specific to your vehicle and your individual towing and/or load carrying scenarios.
Ensure your vehicle is safe and fit for purpose under load with a Pedders Tow & Load Assessment.