Townley, Dale and Faith fired up for Supercross opener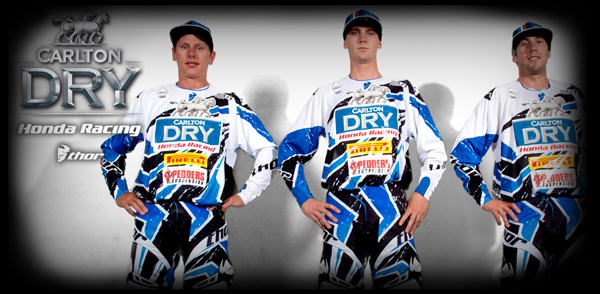 Carlton Dry Honda Thor Racing will field an in-form and experienced rider lineup for the Terex Australian Supercross Championships which begin at Dubbo's Morris Park Speedway this weekend.
Ben Townley and Ford Dale will hit the track as a lead Pro Open pairing, and Gavin Faith returns to his ride with the team in the Pro Lites class with another year of Supercross experience under his belt.
Townley is eager to race again and is hoping to be able show the speed which made him a frontrunner at the start of the year.
"I'm just looking forward to getting behind the start gates again, it's been a long time between drinks for me," said Townley.
"It's been very wet in New Zealand and I've been fortunate enough to be able to stay and train with Ford up on the Sunshine Coast where the weather has been amazing.
"I haven't raced a Supercross Championship for a few years, the biggest thing for me and the team is to get out there and race four solid events and build on that foundation for 2013."
Townley and younger teammate Dale have formed a strong bond during the past nine months, and have spent much of their training time together.
2012 MX2 Motocross Champion Dale will campaign a Honda CRF450R for the first time during the Supercross Championship, and, given the momentum behind him, is sure to be a podium contender.
US Import Gavin Faith rode to a strong second place with the team in last year's Championship, and has since strengthened his game with experience in the AMA's premier class of competition.
Now familiar with the tracks and his main title rivals, Faith is quietly confident that he can go one better and deliver Carlton Dry Honda Thor Racing its second 250cc class title of 2012.
"I was really happy with how I went last year, it's a super cool team to be a part of and good to be back with good people," said Faith.
"I've been back in Australia for about a week and have just been settling back into things and working with the team. I've had a couple of days to ride the bike and already feel pretty comfortable on it.
"It's been a big learning year for me. I rode AMA Supercross for the first time and though I didn't ride as well as I'd like I was happy to be making mains and getting the experience of racing against the top guys."
The Championship will return to traditional Main Event formats for each round of 2012, with Pro Opens contesting a 20-lap final and Pro Lites 15 laps.