Racing Success for Pedders!
Pedders Suspension don't just do business, they are also avid supporters of motor sport. With sponsorship of grass roots and national motor sport teams and events, their staff are also involved on the national stage in both rallying and circuit racing, including a Franchise owned and operated outfit in Pedders Racing, three-time class Champions in the Australian Manufacturers Championship.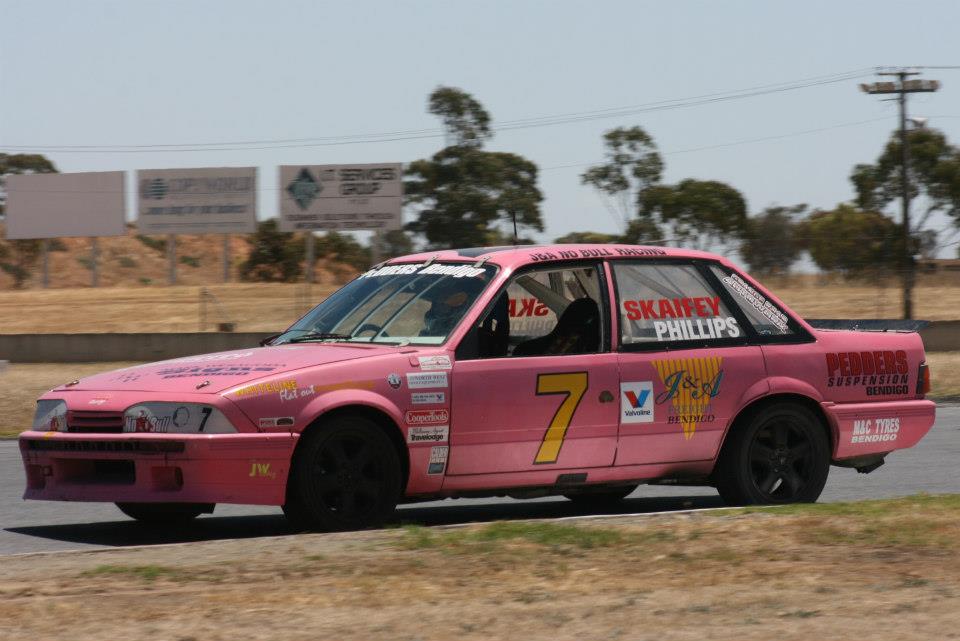 Childhood friendship leads to on and off track success
When Grant Phillips and Andrew Turpie met as children, few would have thought their friendship would lead to successful futures in both business and racing. In those early days it wasn't about tearing up the asphalt on a racetrack, the fun was to be had with motorbike scrub runs and enjoying their first bush bombs. It didn't matter what type or condition of wheels they had, the boys and their mates enjoyed endless days of fun with the machines that would become a major part of their lives.
Bringing childhood passions to life
Eventually the boys left their scrub adventures behind, and did what we all have to do; grow up. They were now living a more sensible life, Grant as Franchise Owner of Pedders Bendigo and Andrew as a co-Director of J&A Logistics Group, but you could never keep these boys away from motor sport. Grant and Andrew had never lost their love of all things motoring, and had the occupations to prove it. Growing up, Grant had spent many happy hours with his Dad at speedway meets and it was when Grant decided to make his own foray into the world of speedway that the motoring friendship with Andrew really re-ignited. In 1993, Grant created the Pedders Pushcars, and he continued to operate a fleet of Holden HQ-HZ sedans at various Victorian speedway events until 2006. During this period he was also volunteering as an official at both speedway and circuit events, with Andrew alongside for the ride especially when the odd chances arose to take the wheel of Toranas on the speedway dirt.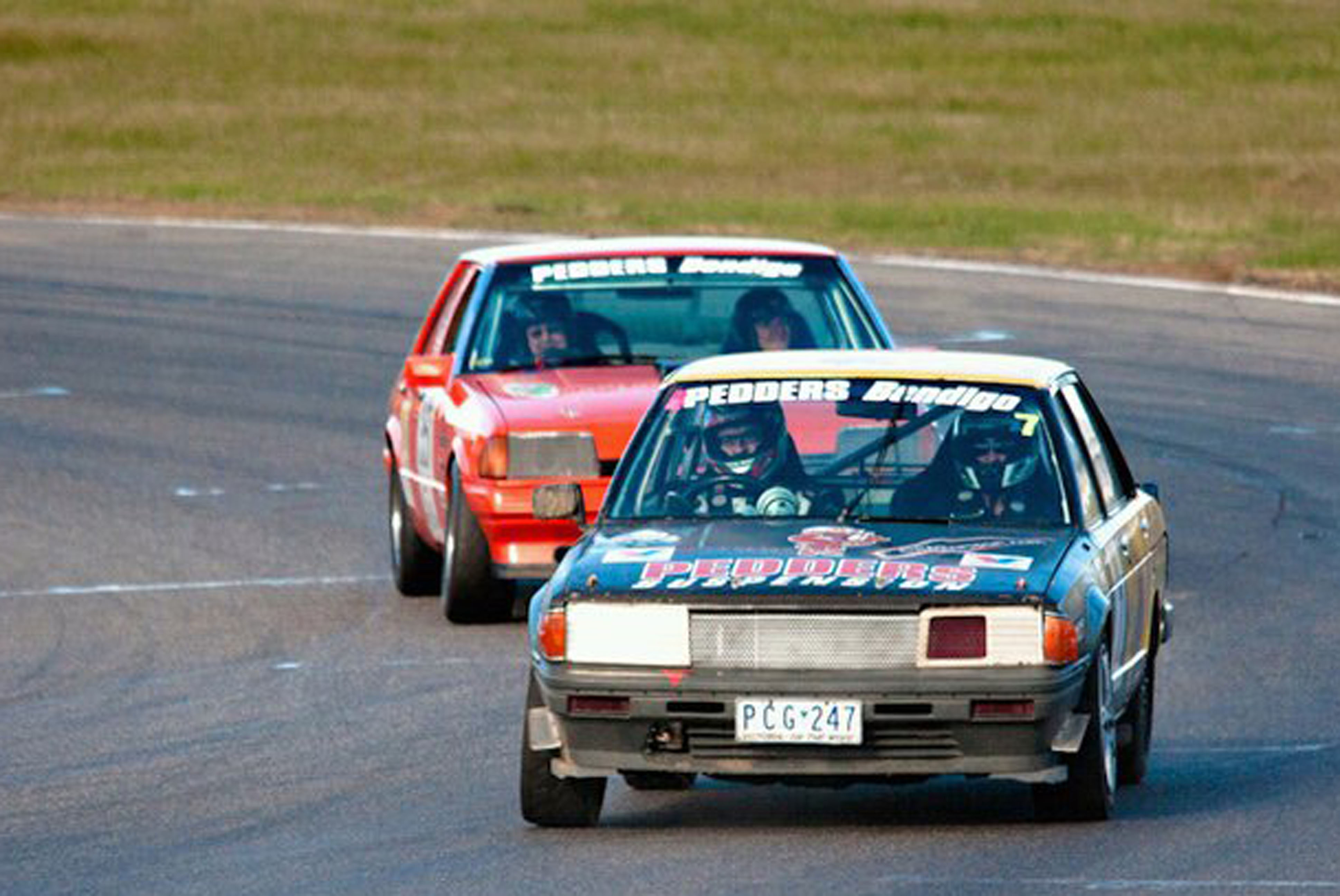 Over the years as his Pedders franchise grew, Grant went on to purchase several machines and developed them into track competitors, the purchases including a 1981 model Nissan Bluebird which originally ran with a 6 cylinder Toyota engine, then zoomed into the Super TT class after the fitting of a Ford 302 V8, and a VL Commodore Auscar that ran in the Winton Sprints and 6 Hour endurance races across Victoria.As Grant and Andrew networked and developed bonds with other racing enthusiasts and officials, so they built a skilled and passionate volunteer race crew, and a loyal supporting sponsor group, all who would combine to take the next steps.It was 2009 and a year away from motor sport as both Pedders and J&A continued to grow, that Grant first saw the sleek concept of the Toyota 86 and decided "I have to race one of those!". As seasons 2010-2012 unfolded with J&A No Bull Racing having elevated to the national Australian Manufacturers Championship campaigning a Proton Satria GTi, the challenge to get hold of the 86 drew on. Grant was determined, and having secured back to back class Championships in the Proton, taking victory over vehicles up to ten years younger, alongside a three peat of Pedders National Top Store awards, finally the day came when an ex-media demonstration 2012 Toyota 86 GTS arrived at Pedders Bendigo. It was December 2012 and with greater support from Pedders Suspension seeing a team name change to Pedders Racing, it was time for the birth of the Pedders Racing 86.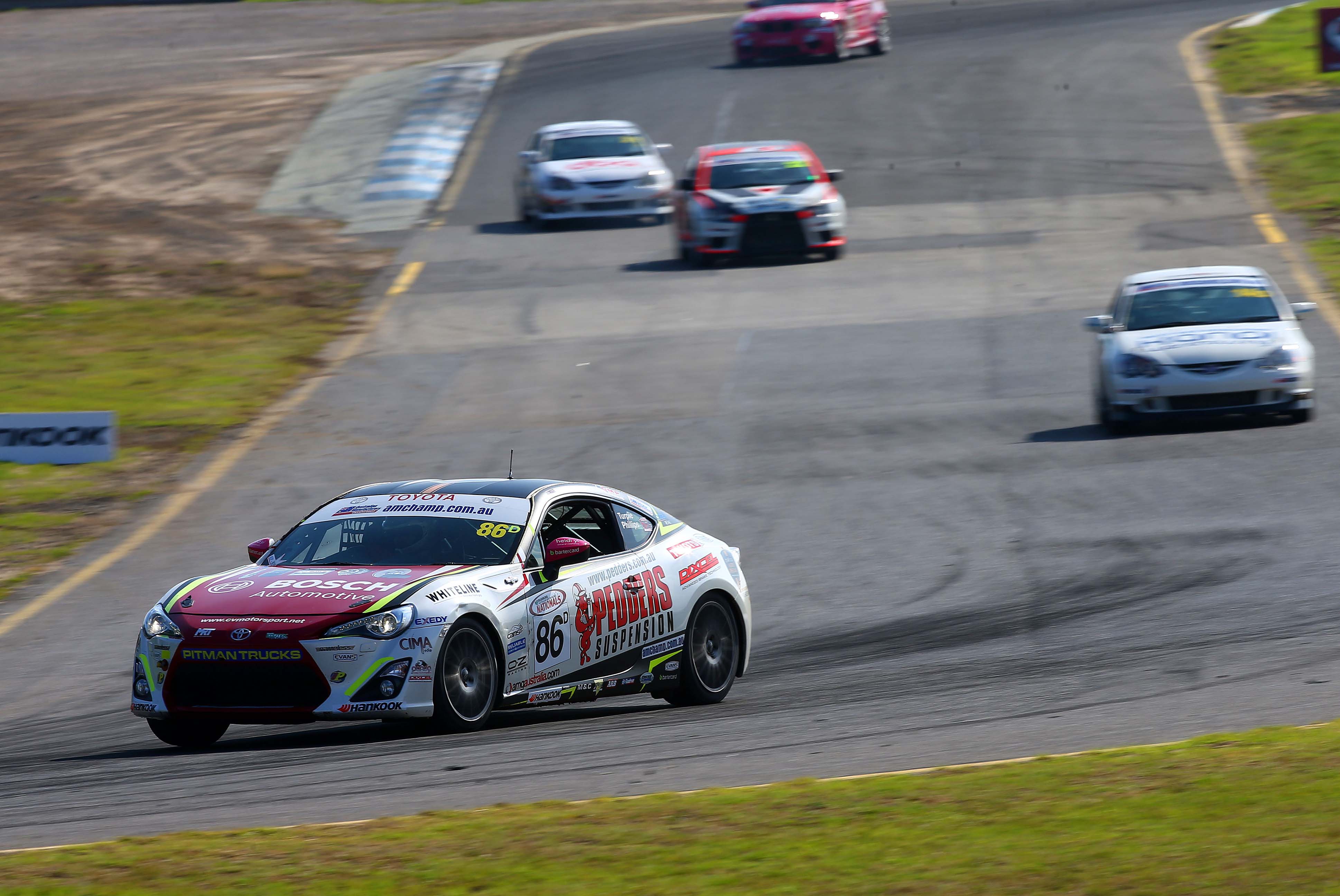 The making of the Pedders Racing 86
Much like many previous adventures, it was going to be a big build under pressure, the team determined to have the world's first national production racing spec Toyota 86 ready for debut at Mount Panorama Bathurst's Motor Festival, just three months down the line. It was going to happen.It wasn't only the Pedders Racing crew that pulled together, the support was incredible. Pedders Suspension, Valvoline, Bosch, Bartercard, J&A Logistics Group, DBA and Whiteline, and of course the highly committed crew and understanding families, all contributed to getting the Pedders Racing 86 to its 2013 Bathurst debut. Having met Aussie star of screen and stage, Shane Jacobson, at a Pedders conference and making the offer of racing Bathurst, the 86 would hit the track with a passionate crew and a star driver sharing the wheel with once dreamer, Grant Philllips.Since then, the Pedders Racing 86 went on to enter the Australian Manufacturers Championship and has gone from strength to strength, achieving several world firsts, including being the world's first Toyota 86 to be homologated for a national production racing series, the first Toyota 86 to achieve a national production racing class pole position, event start, race win, and class championship; all impressive feats.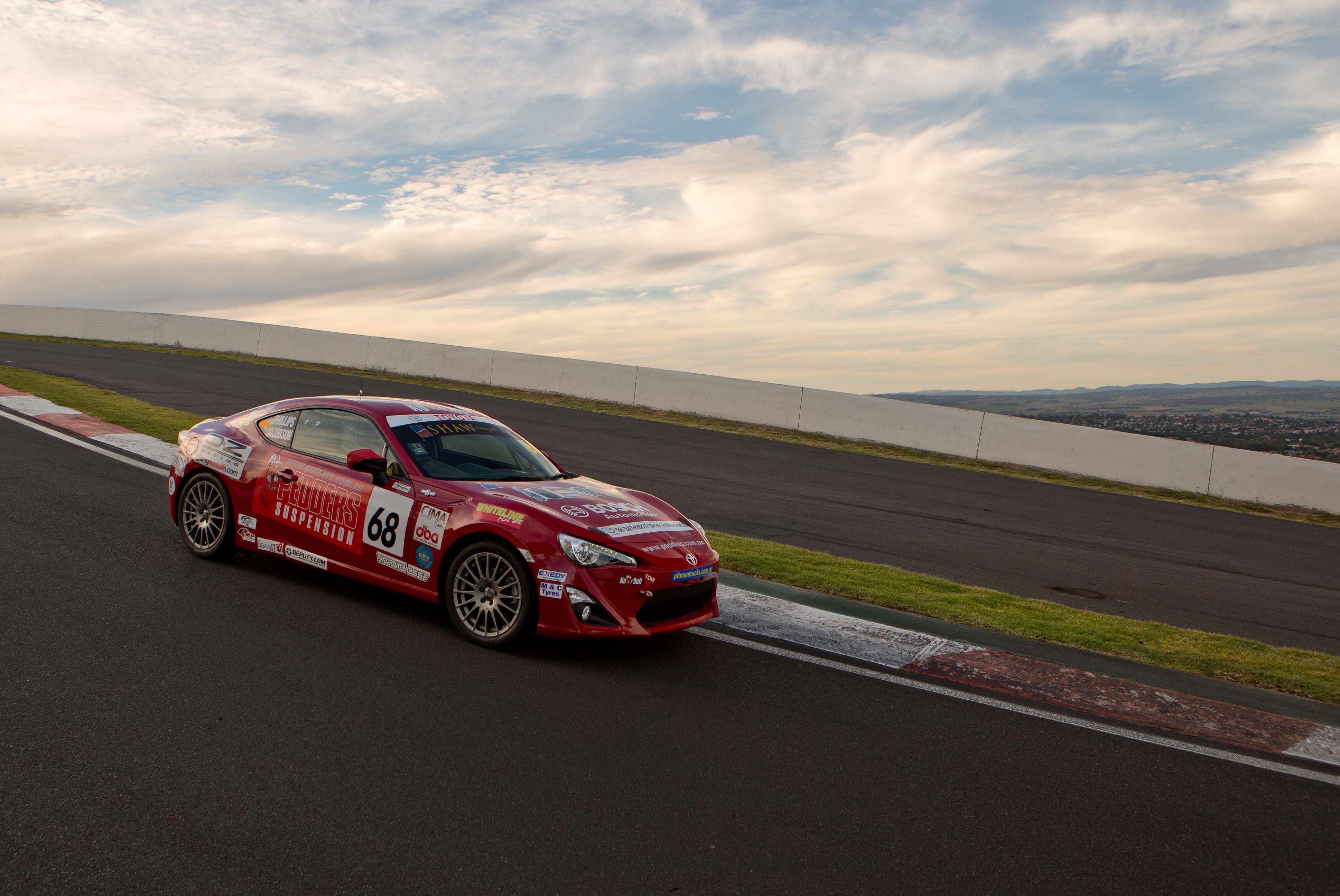 Coming back from the brink
A return to the Bathurst Motor Festival in 2014 was scheduled to be the last performance by the champion #86, with sponsorship proving to be elusive. Grant, Andrew and the volunteer team had agreed that without the support it was time to call it a day, but as with any great story, there was a twist. Word was starting to spread about the efforts of Pedders Racing and their 86, and soon after the retirement was announced, local, national and international brand support came in to enable the team to confirm a last-minute entry into the full 2014 Australian Manufacturers Championship season. Pedders Racing has, since then, never looked back, going from strength to strength with a Toyota Formula One inspired livery, additional sponsorships, proudly taking on a seasonal 'promotional tour' to network with fellow enthusiasts, while never forgetting to keep the journey enjoyable for those at the heart of making it all happen, mates.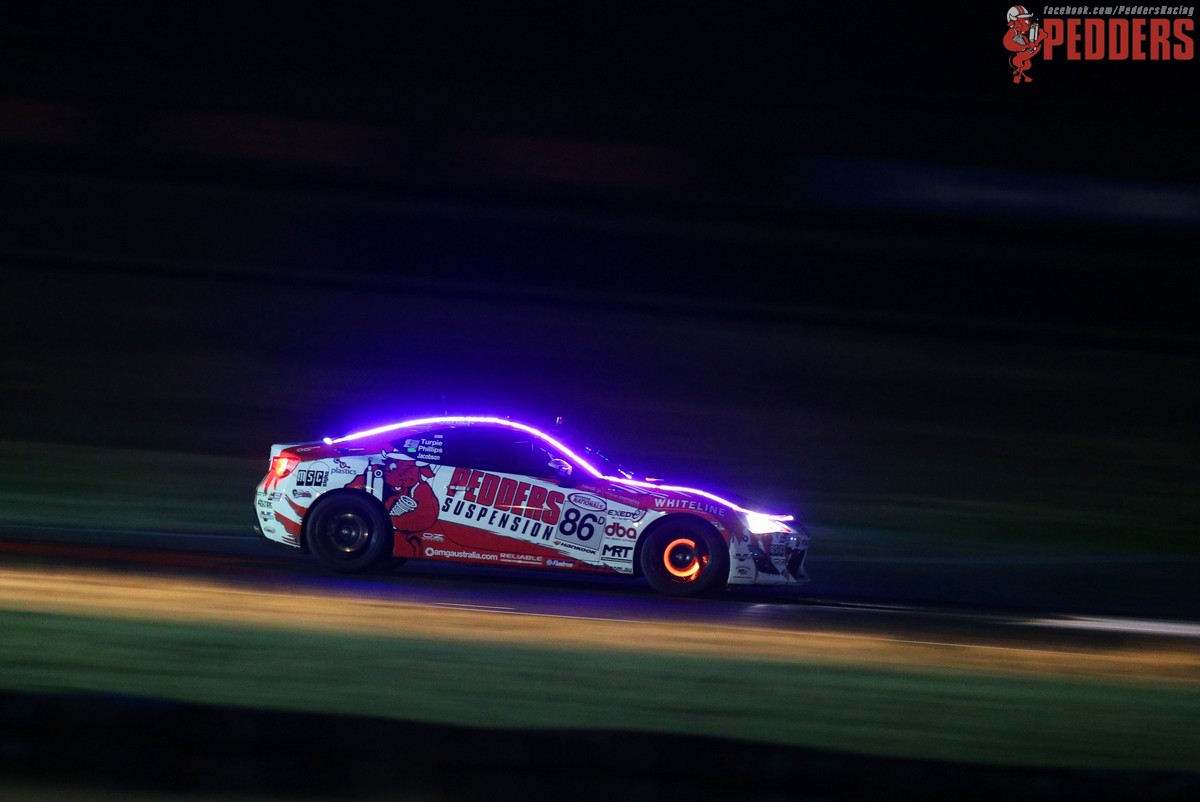 The success secrets of Pedders Racing
Success is really no secret at all. Thanks to the dedication of Grant, Andrew, their volunteer team, families and proud sponsors including our team at Pedders Suspension, Pedders Racing has achieved not only impressive performances on track, but has built a loyal and strong network of supporters through their commitment to engaging with the community and to appreciating those who allow their dream to be a reality, the officials. There are many aspects for creating motor sport success, and as in business there must be dedication, communication, honesty, skill and teamwork. Taking a vehicle from the Toyota factory, the Pedders Racing 86 received a roll cage and safety fit out, Pedders XA fully adjustable remote canister coil overs, Whiteline sway bars and bushes, and DBA brakes, all products available through your local Pedders Suspension, and became a winner. Pedders Racing continue to star in the national production racing arena, enjoying the friendship and the journey, this season having added the skills of the next generation to their crew through an alliance with Motorsports Training Australia. The journey is far from over, three rounds into the 2015 Australian Manufacturers Championship, the #86 is three from three, looking good to secure the car's second, and the team's fourth national class championship. Stay tuned, or get involved via facebook.com/PeddersRacing