Pedders Racing are the 2015 Australian Manufacturers Championship Class D champions!
Pedders Racing – 2015 Australian Manufacturers Championship Class D champions once more!
Sydney Motorsport Park played host to a number of finals last weekend as the Shannons Nationals wrapped up its tenth season in style, and the final round for the year of the Australian Manufacturers Championship unfolded. In fact, it was the final round of the category as it's known, next year seeing the beginning of the CAMS Australian Production Car Series with high hopes that 2016 will be the year of the resurgence of production racing. It's the old days racing in the modern day version, and its where regional Victoria's Pedders Racing continue to excel, sealing the volunteer team's fourth national Class title in five seasons at the weekend.
Starting in club racing, before moving through state and on to national competition, Pedders Racing have always been locally based, volunteer managed, and supported by a growing group of loyal sponsors and enthusiasts who see the strength of the team's dedication, pride and community spirit. This year, the want to develop both results and community reach led to an alliance with Motorsports Training Australia (MTA), where students, under the guidance of skilled teachers, provided all technical and mechanical work on the team's world-first achieving #86 Toyota 86 GTS, along with MTA crew leading the way at the track in setup, strategy and pit stop activity. Team Principal and driver, Grant Phillips, explained,
"Our team has always been a dedicated group who share the passion for racing and the value of friendship, and having added the MTA students and teachers this year, we were able to take our performance and professionalism to the next level.
"It's always going to be a learning experience when you place your race season in the hands of fresh faces, but the learning experience has been an incredibly positive one as the teachers drove the program, supporting the students in their commitment to learn every aspect of the motor racing world.
"We've certainly seen outstanding results in the first season of the partnership – not only with on track results, but also with students and our crew developing personally and professionally together.
"To know that we are the catalyst of being able to give the real at-track experience to the next generation is an amazing feeling, and for the students to lead our team to a clean sweep of Class round wins and now our fourth national title, that is a huge sense of pride for everyone involved."
Season 2015 was the most challenging to date for the team, with everything from accidents and engine swaps, to global parts searches and development roadblocks, fresh young crew each round, and the addition of new tech minds, Pedders Racing turned every challenge into a learning opportunity and came out on top once more. Co-Driver Andrew Turpie set five of five pole position times this season to also seal the Australian Endurance Championship Class D title for the team, and his pride was evident as he explained,
"What a year, what a team! It's incredible to think of where this little team of mates started, and now we've grown significantly as we play our part in teaching the next technicians, engineers, managers and drivers. No matter what this often cruel sport throws at us, the team pulls together and always make for an ending we can all be proud of.
"When Grant (Phillips) first saw the 86 concept, we could never have dreamed that we would be putting our fourth national championship trophy on the mantle alongside a pretty impressive collection of round win accolades, but our biggest victory is the group of people who make it all happen.
"The long-term crew, our families, the Motorsports Training Australia students and teachers, our group of technical minds, the enthusiasts who support and join us at each event, the community who show enthusiasm for what we do, and of course our loyal and proud group of sponsors who make all of this experience possible. It's all of these people earned the trophies and the respect. At the end of the day, we just have the extra pleasure to steer the car!"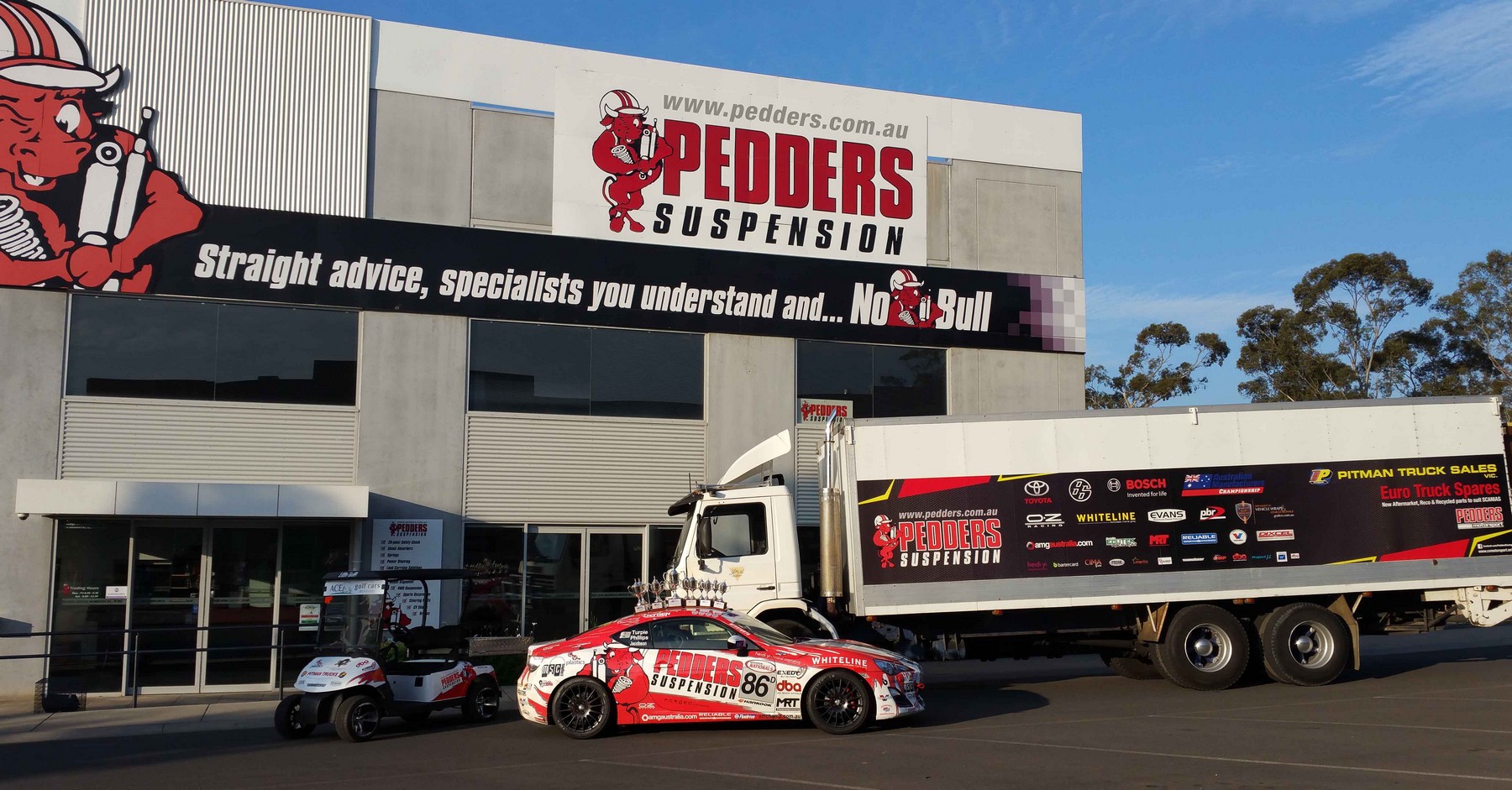 After four rounds of the Australian Manufacturers Championship, plus an additional jaunt at Mount Panorama for the Easter Bathurst Motor Festival, there needed to be a quieter and easier round for Pedders Racing at some point, and thankfully it was the Round 5 finale in Sydney where things all just seemed to work. Pre-setup was spot on, mechanicals were working well, the MTA-planned strategy ideally suited the Australian 4 Hour, and despite heavy rains in the opening days of the event limiting performance testing, a clean on track run meant the Class pole position would convert into an exciting endurance race on Sunday.
The field took on the trials of consistency, strategy, focus and a little bit of luck to take on the second of two four hours this season, the Australian 4 Hour. From the moment the track went green for racing, the #86 was on song and punching well above its weight in the strong and varied field across four Classes. Pit stop plans unfolded like clock-work through refuel, driver changes, and added a new experience as the team's first mid-race tyre change in five seasons came and went, and as the endurance competition began to take victims, Phillips and Turpie continued to drive on with consistency and calm.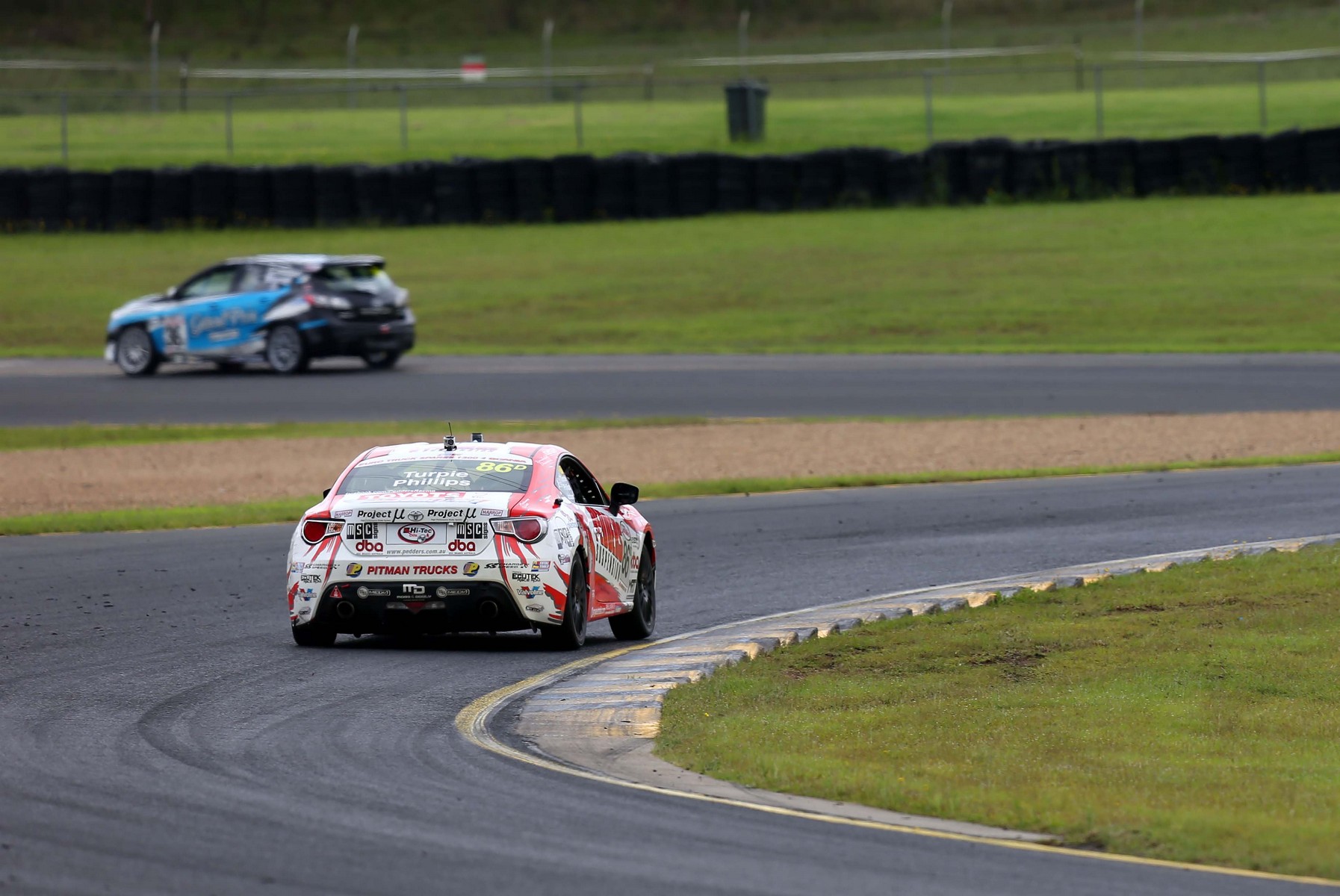 After four hours on the limit, Pedders Racing's #86 met the chequered flag without a scratch, to win their fifth from five Class round honours and the team's fourth national Class Championship, along with securing their best ever Outright race finish, in fact, the #86's fourth place is the best ever outright history of the Australian Manufacturers Championship.
Another season has now drawn to a close, but there is so much more to come as Pedders Racing now turn focus to their confirmed entry in next Easter's Bathurst 6 Hour production endurance race as part of the Bathurst Motor Festival. It's the next step in setup, strategy and endurance, and it will all unfold on Australia's most challenging and renowned circuits, Mount Panorama Bathurst.
The coming months will see the team complete a full service of the two-time champion 86, work on finding the next developments in line with the 2016 Series regulations, seek to again secure loyal and proud sponsorship support for season 2016's commitments, attend many exciting community and motoring events to share the team's passion for motor sport, and prepare for another season of education, endurance and experience with the Motorsports Training Australia crew.
A small team, a striking story. Stay tuned for the next chapter in 2016!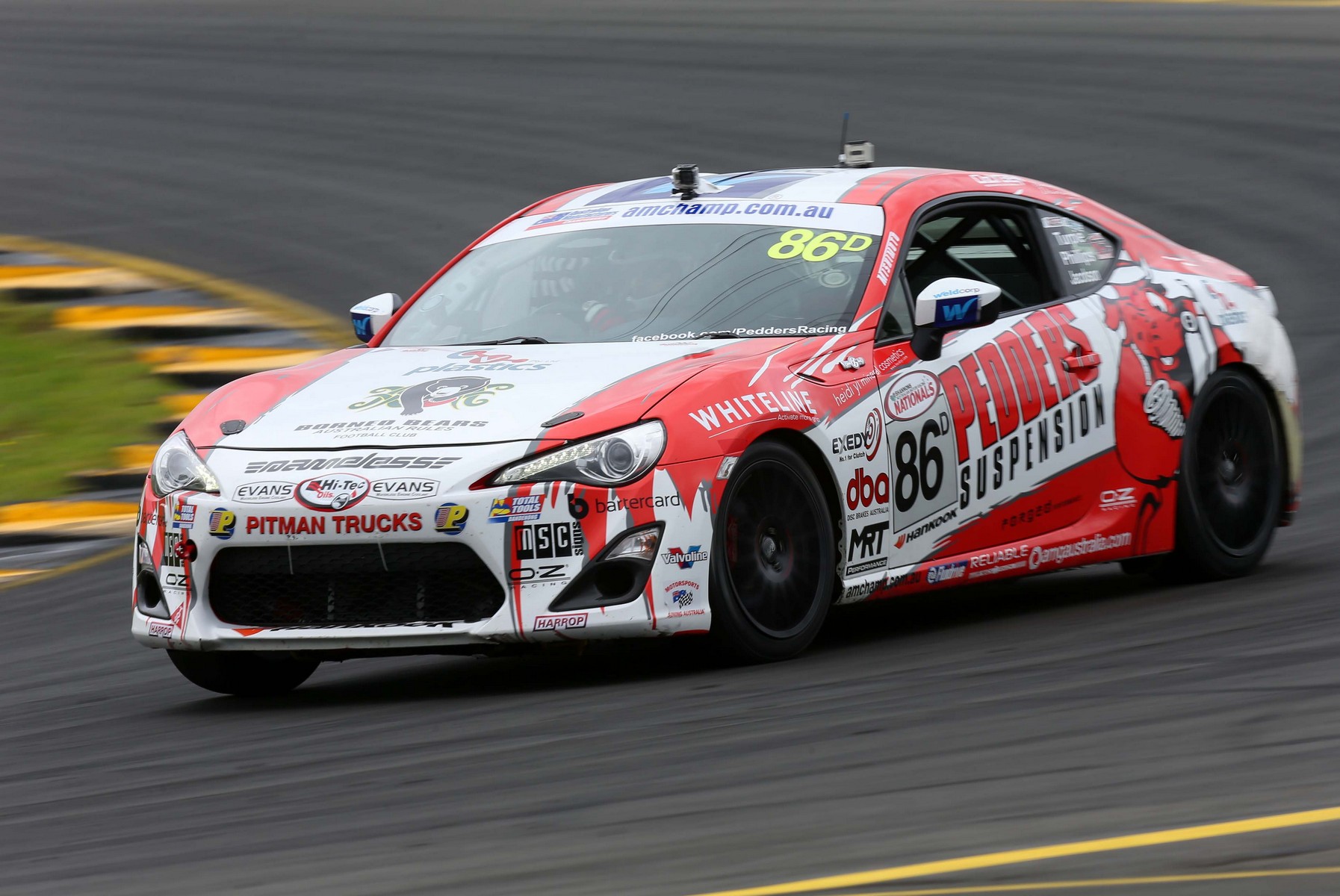 Pedders Racing wishes to sincerely thank Crew Chief Matt, Nathan, Scotty, Alex, Alec, Presique, along with Trevor, Stephen, Stuart, Steve and all the teachers and students of Motorsports Training Australia, who without their persistent efforts this achievement would never have been possible. Thanks go to our loyal Pedders Racing crew, Chris, the original Stig, Justin, Kat, Stephanie, Emily, Damien, Andrew, Damian, Daniel, Heidi, Jayson, No Bull Chick Claire, Mike, Arthur, Mathew, and to Grant and Andrew for always bringing it home. Thanks to our ever-supportive sponsors who back us every step of the way, and thank you to our families who keep home a happy place and allow us to go racing; thank you to all of the staff and officials whose dedication makes our events possible; and thank you to all of our supporters, near and far, whose passion and enthusiasm for this team keeps driving us to never give in. The success if for and because of all of you!
Pedders Racing is proudly supported by Motorsports Training Australia, Pedders Suspension, Borneo Bears Australian Rules Football Club, Weldcorp, Pitman Trucks/Euro Truck Spares, Heidi Yi Mineral Cosmetics, Whiteline, Reliable Rack & Pinion, Harrop Engineering, Total Tools Dandenong, CV Plastics, Forged Performance, DBA (Disc Brakes Australia), AMG Australia/Oz Racing Wheels, ssMEDIA, Moro & Dooly Accident Repair Centre, Bears AFL AusKick, MSC Signs, MRT Performance, ECUTek, Evans Waterless Coolants, Valvoline, Exedy, Nameless Performance, Ozygen Chemicals, Mishimoto Automotive, Simulated Diamonds, Bartercard Central Victoria, Driveways Labs, Charge Speed, Project Mu, Fluidrive Bendigo, Pedders Bendigo, J&A Logistics, CIMA Media, and of course our fans!