Pedders Launch At Automechanika
Pedders Suspension is pleased to announce the exclusive launch of its products on show at the up and coming Automechanika show in the Middle East.  Mr Andrew Sanders (Pedders Suspension Export Manager) will be on site at the Pedders show stand AM2813 to assist you with your queries.
Established since 1950 Pedders Suspension is an Australian family owned company that has provided motorists with a complete solution to inherent suspension and steering problems with original equipment (O.E.) suspension setups.  Pedders Suspension has a comprehensive range of shock absorbers, steering, bushes, power steering, springs and alignment products that are a testimony to this claim.  Such products improve drive, handling and response without compromise.
Mr Sanders is looking forward to strengthening the company's relationships with the Middle East and North African regions by demonstrating the key features and benefits our Pedders range of 4 x 4 and passenger car products.
On show will be Pedders Trak Ryder range.  The Pedders Trak Ryder range is specifically designed for 4WD drive applications and includes heavy duty springs, shocks, sway bars, torsion bars, leaf springs and bushes.
The range of 4WD and passenger vehicle suspension products from Pedders specific to the Middle East and North African markets is set for big things and buyers are encouraged to make Pedders their only choice of suspension for their car or 4WD.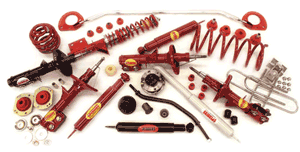 For further information relating to the exclusive range of Pedders Suspension products please contact Mr Andrew Sanders on +613 9706 3500 or email asanders@pedders.com.au