TrakRyder Suspension Upgrade Kits to suit Toyota Landcruiser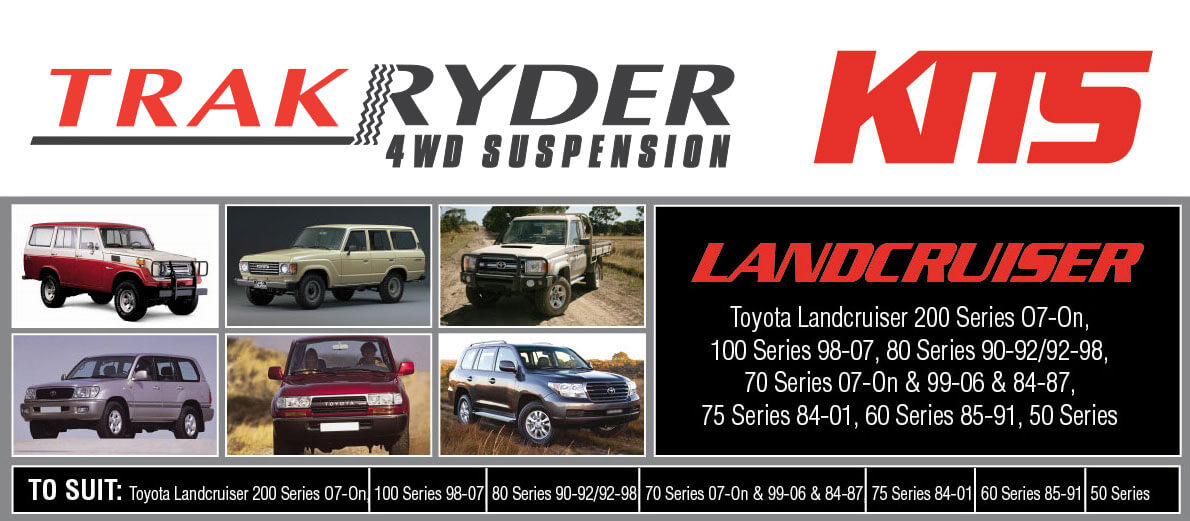 Click to download the entire Landcruiser Kits range:


Pedders offers a range of TrakRyder Landcruiser suspension upgrade kits for Toyota Landcruiser models to equip your 4WD with the very best in suspension. From the links below, you can find a range of premium products tailored to suit the handling of your vehicle, as well as improve your overall off road experience.
Each of our TrakRyder Toyota Landcruiser suspension upgrade kits is equipped with all the necessary parts to enhance your four wheel drive's performance, as well as a great range of optional extras. These include everything from coil and leaf springs, shock absorbers, torsion bars, suspension bushes, to rear airbags, CV shafts, brake parts and more.
On this page you will find all of our custom made TrakRyder Landcruiser suspension upgrade kits designed for numerous Toyota Landcruiser models. Please click on the PDF relevant to your 4WD and discover the various shock absorbers, shackles, U-Bolts and so much more that can significantly increase your vehicle's handling capabilities.
Our suspension packages are made for the Touring, Outback and Expedition ranges. We provide options for ½ inch, 1 inch and 2 inch lifts, allowing you a comprehensive choice when it comes to boosting your Toyota Landcruiser.
Pedders also has TrakRyder upgrade kits for Toyota Hilux and Toyota Prado models. Find out more about our complete range today by clicking on the relevant link, or visit your local outlet across Australia to find out how this fantastic suspension can improve your Toyota Landcruiser.
Equivalent International Model Listing Directory
Toyota Amazon VX refer to Toyota Landcruiser 100 Series
Toyota Autana refer to Toyota Landcruiser 80 Series
Toyota Bandeirante OJ50 refer to Toyota Landcruiser 40 Series
Toyota Burbuja refer to Toyota Landcruiser 80 Series
Toyota Roiraima refer to Toyota Landcruiser 200 Series
Lexus LX570 refer to Toyota Landcruiser 200 Series
Lexus LX450 refer to Toyota Landcruiser 80 Series