TrakRyder Mitsubishi Triton Lift Kit Upgrade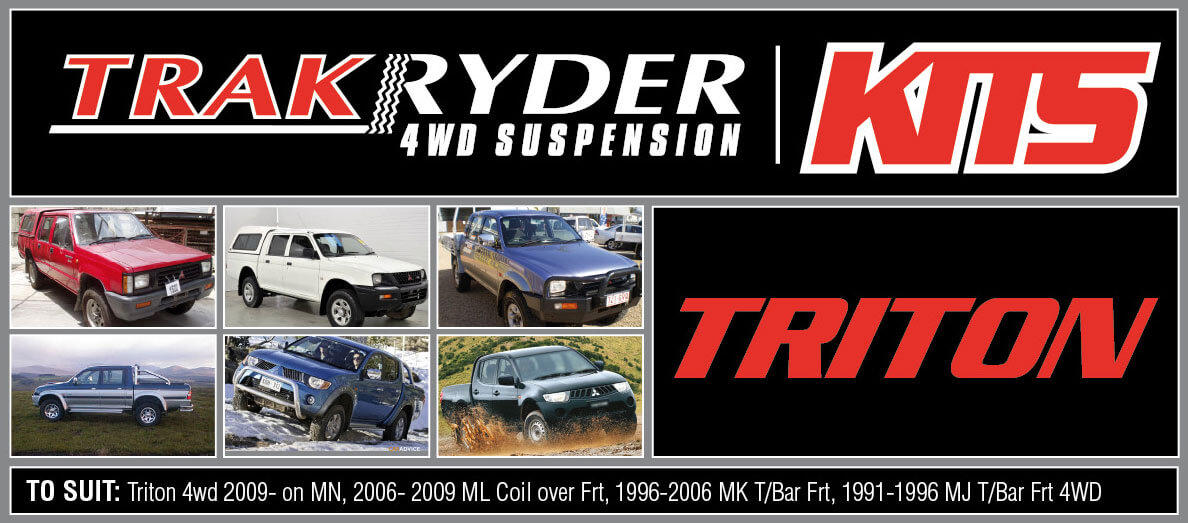 Click to download entire Triton Kits range:

Mitsubishi Triton Suspension Upgrade Lift Kits by Pedders – The Best Shock Absorbers, Springs and More!
Pedders range of TrakRyder Mitsubishi Triton lift kits are designed to deliver impeccable results for your vehicle. Equipped with shock absorbers, torsion bars, suspension bushes, U-Bolts, airbags, and much more, you can easily enhance the performance of your vehicle with our premium packages.
Our Mitsubishi Triton lift kits suspension upgrades are designed to make the off road performance of your vehicle work at its prime. Created with the specifics of your car's characteristics in mind, you can make sure you're purchasing the right fit in coil and leaf springs, alignment kits, brakes, shackles, and more for your needs.
Pedders makes sure to include all the necessary parts for improving your Mitsubishi Triton in our TrakRyder upgrade kits. There are also fantastic additions available to those looking to truly customise their vehicle, all of which can be discussed further or purchased from our various outlets across Australia.
Using the links below, you can find the right custom made suspension kits for you, and discover more about the various shock absorbers, suspension bushes, U-Bolts and more that are included. Click on the more relevant PDF and find out how Pedders can improve the make and model of your Mitsubishi Triton!
For Outback, Expedition and Touring ranges, we have a package for you. With ½ inch, 1 inch and 2 inch lifts available, you can truly create a customised Mitsubishi Triton that feels and drives the way you want it to.
In our outlets throughout the nation, Pedders also stocks upgrade kits made for the Mitsubishi Pajero, Toyota Hilux, and many more vehicles. Click on the relevant link for you today, or visit one of our many outlets and let our professional team members help you on your journey toward improving your Mitsubishi Triton's suspension.
Equivalent International Model Listing Directory
Dodge Ram 50 – refer to Mitsubishi L200 and Triton
Mitsubishi Colt Bakkie – refer to Mitsubishi Triton
Mitsubishi L200 4Life – refer to Mitsubishi Triton
Mitsubishi Magnum – refer to Mitsubishi Triton
Mitsubishi Mighty Max – refer to Mitsubishi L200 and Triton
Mitsubishi Pick Up – refer to Mitsubishi L200 and Triton
Mitsubishi Sportero – refer to Mitsubishi Triton
Mitsubishi Storm – refer to Mitsubishi Triton
Mitsubishi Strada – refer to Mitsubishi Triton
Mitsubishi Warrior – refer to Mitsubishi Triton