Holden Colorado Suspension Upgrade Kits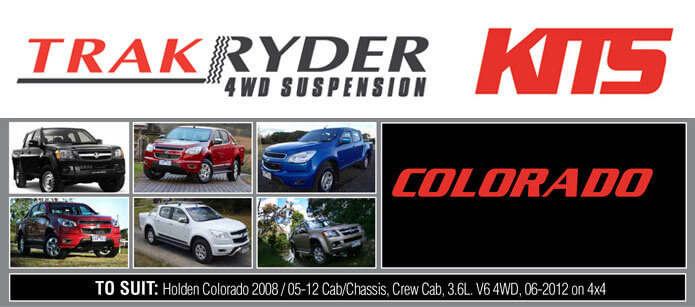 Click to download the entire Colorado Kits range:

Holden Colorado Suspension Upgrade Lift Kits by Pedders – The Best Shock Absorbers, Springs and More!
Pedders' tailor made Holden Colorado suspension lift kits are designed to help you get the most from your vehicle. We match the right shock absorbers, airbags, coil and leaf springs, brakes and more to the requirements and characteristics of your vehicle.
Every TrakRyder Holden Colorado suspension upgrade kit we have created is designed to improve your off road experience on the whole, and we equip all of our packages with the necessary parts to do just that. There's also plenty of optional add-ons you can choose from to truly customise the enhancement of your vehicle, all of which you can discuss with one of the expert team members in our many Pedders outlets throughout Australia.
Use the links below to navigate toward the custom made TrakRyder suspension lift kit for your specific Holden Colorado model vehicle, and discover the premium torsion bars, shackles, U-Bolts, alignment kits, and many other parts we have on offer. Find out more about the many options for improving your vehicle's handling by clicking on the relevant PDF today!
We have packages specifically designed for the Expedition, Touring, and Outback ranges. Offering ½ inch, 1 inch and 2 inch lifts, you can really personalise the way your Holden Colorado drives. We also sell upgrade kits for Mazda BT50, Nissan Patrol, and many other models.
Visit the Pedders outlet closest to you across Australia to discuss your options with one of our experienced team members today.