Pedders GVM Upgade Kit To Suit Toyota Landcruiser Prado 150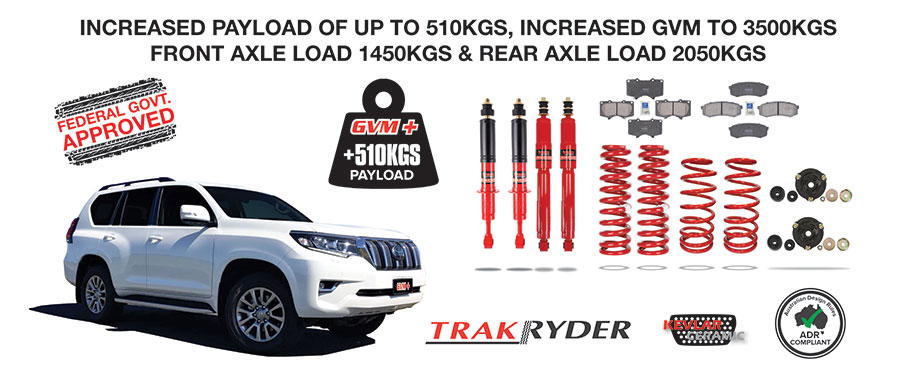 If you own a Toyota LandCruiser Prado 150 series that carries heavy loads or if you are serious when it comes to packing equipment for the journey you take then look no further – Pedders has a GVM upgrade solution for you! Our suspension upgrade kit to suit the Prado 150 will improve the load carrying and towing capability of your vehicle, as well as giving you better handling. Give your Prado 150 the suspension upgrade it deserves.
Pedders now offer a GVM+ upgrade kit for selected Prado models that vastly increase the GVM rating of your vehicle while maintaining compliance with Federal Department of Infrastructure and Transport standards.
All suspension components installed as part of a Pedders GVM+ upgrade package are backed by a Pedders 2 Year/40,000kms Nationwide Warranty and provide Toyota LandCruiser Prado 150 series models with a certified GVM rating of 3500kgs – that's a payload increase of 510 kgs!
Click the link below to download the Pedders GVM+ Upgrade Kit flyer:
Toyota LandCruiser Prado 150 series GVM Upgrade Kit
---
Pedders also has GVM upgrade kits for Ford Ranger, Nissan Navara D40, Nissan Navara GU Patrol, Nissan Navara D23-on, Toyota Landcruiser 76 Series 99-On, Toyota Landcruiser 200 series 09/2007, Toyota Hilux GGN25R/KUN26R 4WD, Toyota Hilux Series GGN125R/GUN125R/GUN126R 4WD, Toyota HiAce LWB, Toyota HiAce SLWB, Mitsubishi Triton, Holden Colorado, Holden Colorado RG2, Isuzu D-Max, VW Amarok, Hyundai iLoad and Mazda BT50 models.
Find out more about our complete range today by clicking on the relevant link, or visit your local Pedders outlet.