Pedders GVM+ upgrade solutions for selected vehicle models assist in compliance for increased certified GVM ratings. The reasons why you may require a GVM parts solution is to satisfy the following requirements: OH&S, vehicle insurance, warranty issues and being road legal. Through exhaustive and detailed testing, the Pedders GVM+ Upgrade Kits have been approved by the Federal Department of Infrastructure and Transport.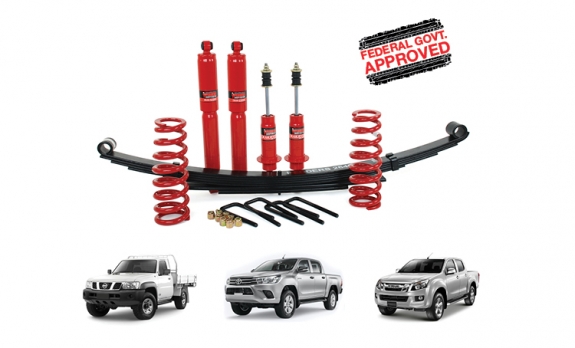 Never Registered Vehicles Or Brand New Vehicles
Compatibility: For brand new vehicles; prior to registration. When the GVM Upgrade kit has been installed to a new vehicle by the trained Pedders technicians at a Pedders store, an additional compliance plate advertising the up-rated GVM figure will also be fitted. A replacement axle ratings sticker will also be fitted where required. The new vehicle can now be registered and legally operated up to the new gross vehicle mass in all states of Australia.
Post Registered Vehicles
Compatibility: For used vehicles that have already been registered and present as used with many kilometres and years of driving. For such vehicles that have already been road registered, the vehicle is to be inspected by an authorised Automotive Engineer in that state and be issued with a compliance certificate. This system does vary from state to state, please contact the registration Authority in your state or territory for further information.