For most off road vehicle users a bull bar, side steps and rear nudge bars assist in keeping unwanted damage away, several working components located in the under body of your vehicle are also at risk. As you drive your off road vehicle through challenging terrain it's the under body section that cops a beating. Pedders brand new range of ASFIR skid plates offer uncompromised 4x4 underbody protection.
ASFIR 4wd – a worldwide brand synonymous with the development, production and distribution of off road accessories for the 4x4 and military market has teamed up with Pedders to bring you a high quality range of new skid plates for your four wheel drive, passenger car, light commercial and mining/military specification vehicles. ASFIR parts are manufactured to ISO 9001:2008 standard.
Our range of Asfir 4x4 skid plates is offered on the following vehicles: Land Rover Defender/Discovery, Mitsubishi Pajero/Triton, Isuzu D-Max, Jeep Wrangler, Range Rover Sport, Nissan Navara/Pathfinder/Patrol/X Trail, Chevrolet Colorado, Holden Colorado, Hyundai iX35/Tucson/Terracan, Kia Sorrento/Sportage, Volkswagon Touareg, Renault Koleos, Suzuki Jimny, Toyota FJ Cruiser/Hilux/Landcruiser Prado.
NOTE: Items out of stock or not held in stock may take up to 14 weeks for delivery ex-factory at the time of order.
ASFIR 4WD Skid Plates Offer: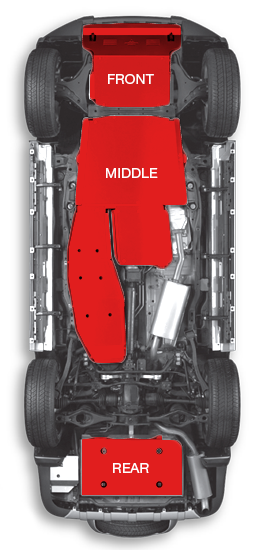 One of the highest design, performance and finish standards in the world.
Various skid plates protecting the underbody parts of the vehicle such as front, engine, gearbox, transfer and fuel tank.
Made from lightweight quality aluminium and are screwed to the original holes in the vehicle for maximum protection with minimal weight.
Service opening in the skid plates enable servicing the vehicle without dismantling the plates.
Simple, quick and easy bolt in installation with no modifications required.
Maximum Protection with minimal weight
All of Asfir's 4x4 new product design and research is based on military and special ops experience in which vehicle parts must remain light.
All skid plates and 4x4 underbody protection units are made of aluminium – strong yet very light.
Passenger Safety
The vehicle skid plate protection system helps keep passengers safe while driving in difficult off-road conditions (front, under-parts, sides, rear).
Asfir 4x4 skid plates improve driving stability and safety.
Preserving the Vehicle
The ASFIR vehicle skid plate kit maintains the vehicle's chassis thanks to its separate components.
The underbody protection kit is attaches to the original chassis holes with bolts, thus no additional drilling or welding is done.
The components of the skid plate kit have convenient service openings, enabling easy access.
Unique Specifications
External reinforcement ribs and dirt drainage holes.
Rubber separation units and steel brackets to connect to the chassis.
Noise-reducing rubber components that effectively stop unwanted vibrations.
Bent steel brackets that absorb pressure from obstacles.
DIY kit - All protection kit components are easily assembled by just about anyone.
Front underbody protection covers your vehicles engine and steering components.  These components are often the first point of contact with rough terrain and we find that many off road users prefer this section of the vehicle be protected with an Asfir 4x4 underbody protection kit.
Middle underbody protection of your vehicle includes gearbox and transfer case.  The middle components of your off road vehicle can be subjected to serious damage in severe off road conditions. The middle section underbody protection kits will protect your middle chassis components from catching on whatever you're driving over.  These kits are most suitable for the regular to serious off road user.
The rear underbody protection components assist in protecting you vehicles fuel tank.  Having a hole in the fuel tank as the result of serious off road use can be a major problem.  Serious off road users use these rear underbody kits to protect the fuel tank from serious damage.