TrakRyder Suspension Kits for Nissan Patrol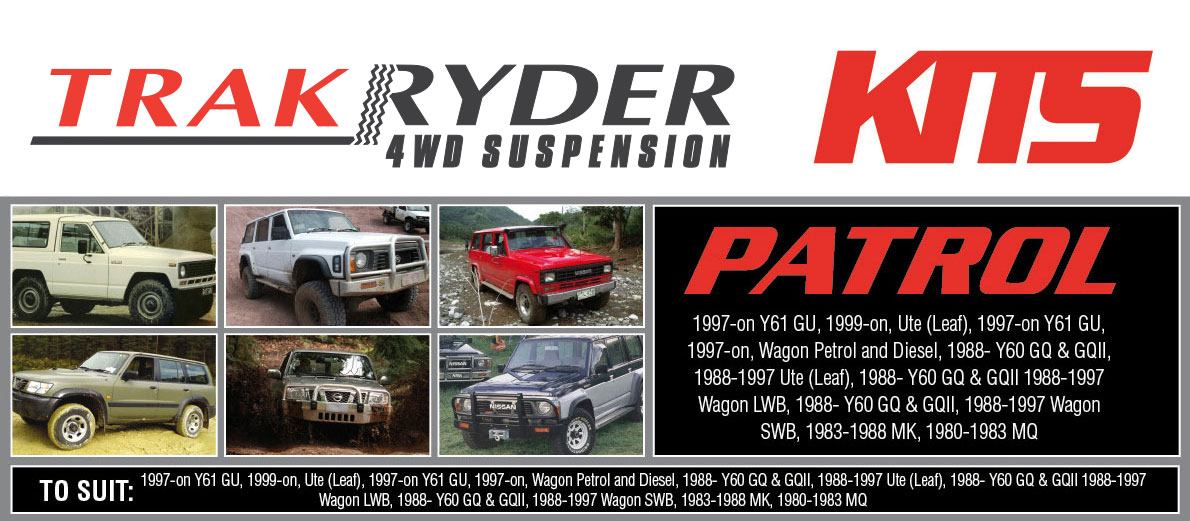 Click to download the entire Patrol Kits range:
Find a great range of Nissan Patrol shock absorbers, suspension bushes & more across Australia
Through outlets located across Australia, Pedders is the leading supplier of premium TrakRyder suspension for Nissan Patrol models. If you want to equip your 4WD with the very best parts and improve overall handling and performance of your vehicle, click on the relevant link below.
We have collated TrakRyder upgrade lift kits that include Nissan Patrol shock absorbers, suspension bushes, coil and leaf springs, torsion bars, and much more. There are also additional extra options, so you can fully optimise your 4WD to the way you want to use it.
Through the links below, you'll be able to find out more about our TrakRyder suspension kits and the way they can improve various Nissan Patrol models. Click on one of the links below and discover that superior alignment kits, U-Bolts, shackles, and more are all within reach.
Pedders' packages are designed for the Expedition, Touring and Outback ranges. You can select from ½ inch, 1 inch and 2 inch lifts, offering you maximum flexibility in the options for improving your Nissan Patrol suspension.
As well as the kits below, we have TrakRyder packages for Nissan Navara, Mitsubishi Pajero, and many other models. Browse through our website or visit your local Pedders outlet today to find out more!
Equivalent International Model Listing Directory
Nissan Safari – refer to Nissan Patrol
Nissan Seranza – refer to Nissan Patrol
Nissan Super Safari – refer to Nissan Patrol
Ford Maverick – refer to Nissan Patrol