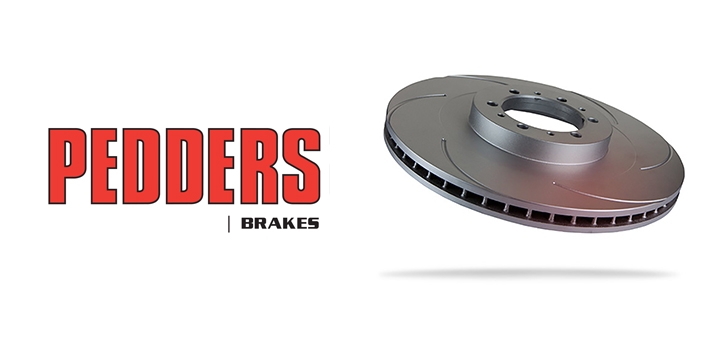 Pedders is a manufacturer of Vehicle brakes and brake components, offering a wide range of solutions that enhance your vehicle's stopping and towing performance. All Pedders products are adapted to Australian driving conditions. In addition to our own brand of brake components, we also stock world renowned Akebono Ceramic Brake Pads.
Increased total weight creates a magnification of energy and force onto the vehicles braking system, which in turn generates increased heat and stress. Increasing total weight and/or inconsistent vehicle loading has a significant impact on brake performance, braking longevity and most importantly braking distance. That's why we encourage all of our customers to book their vehicles in for a Pedders Tow & Load Assessment prior to conducting any serious load carrying with their vehicles. Visit our Pedders Tow & Load Assessment page to find out more.
We offer our own comprehensive range of brake parts and services consisting of:
Brake Rotors Geomet Coated
Brake Rotors Slotted Geomet Coated
Brake Pads (Ceramic) In both Pedders Brand & Akebono Brand
Brake Pads (Kevlar Ceramic)
Brake Drums
Brake Wear Sensors
Brake Shoes
Brake Efficiency Testing
Brake Fluid Flush 
General Brake Servicing and Replacement
Brake Fault Diagnosis
Brake System Rebuilds 
Call your local Pedders Suspension store today to get a quote on our brakes suitable for tow vehicles.
Keep your tow vehicle safe on our roads with Pedders
Get the stopping power and performance you demand with Pedders range of high quality car brakes. Whether you're just after replacement brakes for your Ranger or Hilux, standard brakes for your Landcruiser, DMAX, Navara, BT50 or Amarok or just general aftermarket products, we have the right system for you.
Performance brakes and more for your Tow Vehicle
When you're ready to upgrade your car brakes, turn to Pedders. From high quality disc brake pads to brake rotors and callipers, we have everything you need to optimise your performance vehicle on Australian roads. With brands like: Pedders & Akebono Brakes we've got your braking replacement needs covered. Call your local Pedders Suspension store today to get a quote on our performance and race brakes.
Download our Brochure below: