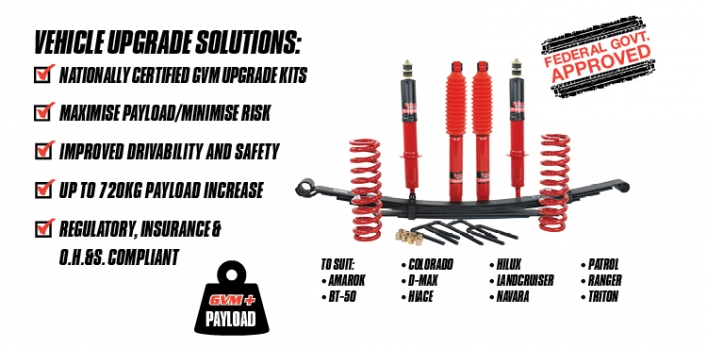 GVM+ Upgrade Solutions from Pedders:
We offer Australian certified suspension upgrade kits that comprise heavy duty Pedders Suspension components, drive shafts and joints. This means that all of our GVM upgrade solutions kits are endorsed and certified by the Department of Infrastructure and Transport.
All components installed as part of a Pedders GVM upgrade package are backed by a Pedders 2 Year/40,000kms Nationwide Warranty.
Ideal choice for towing caravans, horse floats, camper and general trailers who need that extra load carrying capacity.
Great for serious four wheel drives fitted with bull bars, winches, recovery equipment, drawer systems, camping gear and underbody protection looking for compliance to the federal and state GVM laws.
When the GVM Upgrade kit has been installed to a new vehicle by the trained Pedders technicians at a Pedders store, a compliance plate will be fitted. The new vehicle can now be registered with new increased GVM. This procedure will allow the vehicle to be legally used in all states of Australia. For vehicles that have already been road registered, the vehicle is to be inspected by an authorised Automotive Engineer in that state and be issued with a compliance certificate.
So, if you are planning ahead with an impending new vehicle purchase, or have realised that your current vehicle isn't quite handling the load we have the solution.
Unsure?
Why not book your vehicle in for a Pedders Tow & Load Assessment.